About Go-Atlas School of Motoring

The Principal Trainer at Go-Atlas School of Motoring is Tommy Madden. Tommy has been an ADI since 1995 and a Driving Instructor Trainer since 2006. In 1995 he set up a Wigan based Driving School called Atlas School of Motoring, in which time he was a Sole Trader teaching mainly Learner Drivers, specialising in Intensive and Semi Intensive Courses with a very high first time pass rate.


Tommy's Qualifications are:
Passed IAM Advanced Driving Test
Passed DIA Diamond Advanced Driving Test
Grade A Cardington Special Advanced Driving Test
ORDIT Qualification with RED for ADI Part's 1, 2 and 3
Qualified Fleet Trainer
Public and Private Commissions
Teaching Skills
Then in 2006 he decided to broaden his range of Teaching skills and took a post with The Instructor College, which is now known as RED Driving School.
With them he became a Driving Instructor Trainer, working in Ellesmere Port, Bangor in North Wales, Birkenhead, Chester, St Helens, Wigan, Bolton, and Preston.
Go Atlas Today
Now as from April 2011 Tommy has decided to raise Atlas School of Motoring from its 4 ½ year sleep and give it a fresh lease of life by changing the name to Go-Atlas School of Motoring.
Tommy teaches all aspects of driving tuition from learner drivers, right through to training ADI's. He offers a personal service right the way through the qualifying process and beyond, this includes advice and guidance after you have qualified as a driving instructor.
Driving Instructors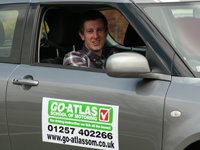 I have been an instructor with Go-Atlas school of motoring for just under six months now. The aspects of the job I enjoy are that everyday is different and a new challenge.

I am able to share my knowledge with pupils and improve their ability as drivers. It gives me great satisfaction to teach my pupils a valuable skill they will have for life.
James O'Loughlin Driving Instructor

Hi, my name is Zamila.  I absolutely love my job from meeting my pupil for the first time to taking them on their journey to passing their driving test, that feeling is amazing! You can't beat that look on their faces!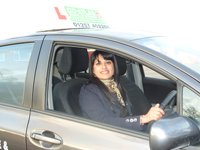 I firmly believe in 'safe driving for life', all my pupils learn the necessary skills required to make them confident and safe drivers and I make sure all my lessons are fun and enjoyable, adapting my teaching methods to suit the individual needs of each pupil.

I have an excellent 1st time pass rate! I live in the Chorley area so if you feel you'd like to learn to drive; give me a call! I am also bilingual and I can teach lessons in English or Gujerati.

I am professional, friendly, understanding and honest, I have a great sense of humour so there's always lots of laughs along the way, and oh, patience is my middle name!
Zamila Chabdu Driving Instructor


To find out more about Go-Atlas feel free to contact us on 01257 402266 or 07793 214166, or send us an email and we will call you back!